PassHub for Business
Self-hosted PassHub​
PassHub is an open-source project with the code available on GitHub. See https://github.com/wwpass/passhub for the backend and https://github.com/wwpass/passhub-frontend for the frontend.
You can deploy an instance of PassHub on your company servers, either VPS or a hardware located in a data center. This way you have full control of your data.
Follow the installation instruction for Ubuntu servers. The PassHub architecture allows to fit the service on a single host or on three hosts with replicated database and a few web servers. It is possible to bind the PassHub to the company's Active Directory for uniform user rights control. Alternatively, you may use the built-in user control feature of PassHub for Business, see below.
PassHub as a Service​
An easier way to get the PassHub instance and control user access to you company data is to subscribe to PassHub as a service. We deploy a PassHub server with a URL yourcompany.passhub.us in the US zone or yourcompany.passhub.us in the EU. To start, you provide an email of the first user who will be assigned an administrator role.
PassHub user management​
As an administrator, sign in to PassHub. See https://passhub.net/doc/ for details.
Scan the QR code on your PassHub site with WWPass Key. During this first sign-in, you will be asked to confirm the email. When your account is created, you are automatically assigned the site administrator role. Same as other users you can create your own records, safes, and share them with your colleagues. Again, see documentation pages https://passhub.net/doc/ In addition, being the site administrator, you can add PassHub users, change their access rights, and revoke or temporarily disable user access. To get to the user management page, click the "Account" icon in the upper right corner of PassHub page and select "Users" item with the wrench icon.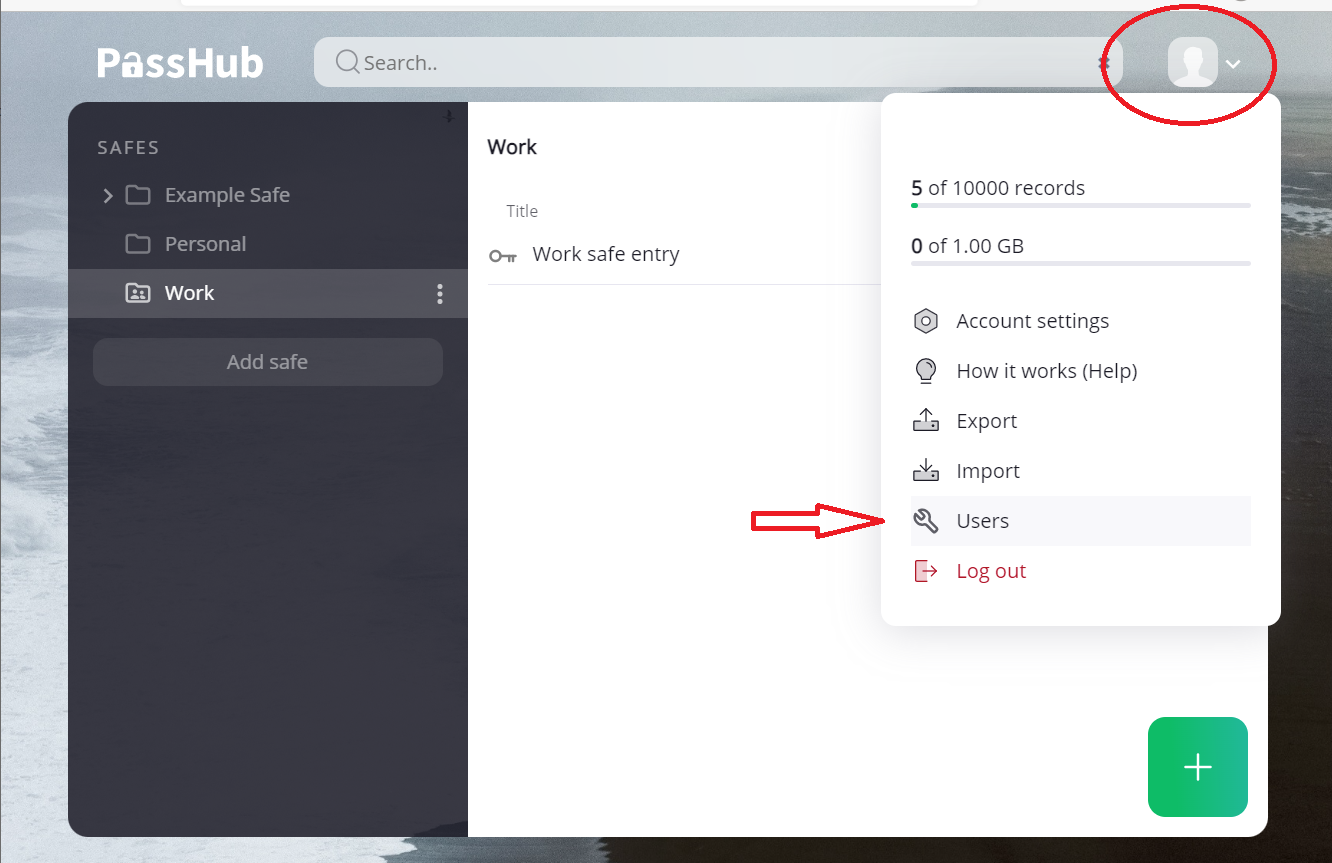 On the user management page, you can allow a new user to create an account with their email address, delete users by clicking the red cross in the corresponding row of the table
Use a black triangle to the right of the email to change the user status:
admin: site administrator
disabled: temporarily revoke user access
active: just normal user